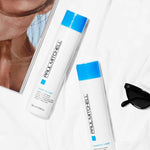 Everything You Need To Know About Clarifying Shampoos
How often should you clarify? Can you use clarifying shampoo's on colour-treated hair? We're breaking down the questions!
How Often Should You Clarify?
The average person should clarify their hair once or twice a month. However, if you tend to use a lot of hair styling products or have hard water, you may need to clarify weekly. Be careful not to over-use clarifying shampoos as they can strip the scalp of the essential oils that keep hair healthy. We recommend using a clarifying shampoo before deep conditioning hair to remove buildup and residue. This will then help hair masks and treatments penetrate better. 
How Do You Clarify?
Shampooing with a clarifying formula is no different than washing with a daily shampoo, however there are a few things to consider! 
Concentrate the shampoo on the top of head, where most of build-up occurs.
Let the shampoo sit for a few minutes to break down styling product residue.
Rinse well and follow with a hydrating deep conditioner. We recommend Paul Mitchell® Super-Charged Treatment®.
Can You Use Clarifying Shampoos On Coloured Hair?
Yes! Using a colour-safe formula like Paul Mitchell® Shampoo Two® can benefit colour-treated hair, but remember to never clarify during the first week of colouring your hair as this can cause the colour to fade faster.
Which Clarifying Shampoo Should You Use?
If you use hair styling products daily, Paul Mitchell® Shampoo Two® deep cleans hair and removes build-up which can dull your hair. It's also good for oily hair since it helps to minimize oil production, making hair become less oily over time.