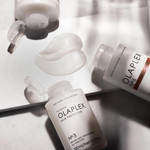 How To Save Your Hair This Winter
The colder season's are upon us which means dry, brittle hair. There are several factors that lead to damaged hair, but the one that's the toughest to avoid is environmental damage in the Winter. Harsh, cold weather can be really stressing to your hair, leaving it brittle, dry, and more sensitive to other types of damage. That's why doing what you can to repair your hair is crucial as ever. Let's be real, we can't ring in the new year damaged!
The Olaplex 3-4-5 System checks everything off the list from re-building broken hair to keeping it healthy and hydrated. Olaplex No.3 is your weekly go-to for hair restoration. Keep it on as you run errands, exercise, or around your home. In a minimum of 10 minutes, Olaplex will rebuild what are called disulphide bonds in the hair. Broken disulphide bonds are what make up a head of damaged hair. Keep in mind though, No.3 doesn't address the moisture your hair is going to need at this time of year. Don't worry, we have something for that too!
Use Olaplex No.4 and Olaplex No.5 Shampoo and Conditioner to cleanse and hydrate as you normally would with any other shampoo and conditioner. The amazing part is, in the little amount it takes to wash your hair, Olaplex will be rebuilding broken hair as you go as well as giving it the hydration it needs. This is the easiest, quickest, way to give your hair some much needed TLC. It will also keep your hair smooth and shiny for the holiday season!