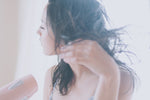 Time-Saving Haircare Tips
Whenever we can add an extra few minutes to our day, we're all over it! To help save you some time, we've come up with our favourite life-saving tips using some of our favourite Alterna products to help save you time when it comes to styling your hair.
Towel Dry Your Hair
The first and easiest step to drying your hair quickly is towel drying. This will allow you to get your hair 50% dry in approximately two minutes. After your hair is towel dried, apply Alterna Caviar Anti-Aging Smoothing Anti-Frizz Blowout Butter from mid-length to ends. This product reduces your blow dry time by 40% and tames coarse, frizzy hair by protecting it from heat styling.
Blow-Drying Hacks
Once your hair is 90 percent dry, spend the last five minutes smoothing it out with a brush as you finish blow-drying. Brush through your hair focusing on the front and the top layer since those are the most visible. If you have curly hair and want to maintain your curls, skip the brush and try a diffuser attachment to help encourage the curl. Alterna's Caviar Anti-Aging Replenishing Moisture CC Cream is a 10-in-1 Complete Correction leave-in delivering moisture, smoothness, anti-breakage, light hold, manage-ability, shine, softness, heat protection, UV protection and strength and can also be used on dry hair (straight or curly) as a finishing product.
Second Day Hair
Skip the hair wash altogether and fake it with a few sprays of Alterna's Caviar Anti-Aging Smoothing Anti-Frizz Dry Oil Mist. This product helps tame second day hair using Abyssinian and Avocado Oils, providing fly-away control whilst also taming frizz for up to 8 hours.
Apply A Dry Shampoo Before Bed
Spray your hair with Dry Shampoo at night so that you can wake up with "fresh" bed-head hair that looks fabulous. Alterna's Caviar Anti-Aging Sheer Dry Shampoo extends the life of your blow-out and adds an instant refresh in between washes.