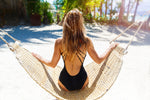 Frizz Fighting Tips For Every Hair Type
Are you ready for a Summer of long, warm, frizz-free hair days? We are, too! We've got you covered. Here are our favourite tips for every hair type, that will have you fighting the frizz on those high humidity days!
For Straight Hair
If your hair is mostly straight, you're in luck! Most products that are designed to smooth won't be too heavy for your hair. With that being said, there are also numerous routine changes that you can make in your everyday life to help stop frizz in its tracks. We recommend sleeping on a silk pillowcase to reduce breakage. To keep your hair from falling flat, try to avoid touching your hair. When humidity hits the air, there is a small amount of moisture that sits on the strands. When you touch your hair, it spreads the moisture, resulting in excess frizz.
In addition to this, it's also worth taking a look at your at-home styling routine. Have you ever wondered why your hair seems so much less frizz-prone after your stylist blows it out? There are a number of factors that come into play, including the products they use. However, a likely contributor is their blow drying technique. To help fight the frizz at home without the help of a stylist, use the MoroccanOil Hydrating Styling Cream before and after your blow dry.
For Curly Hair
Keeping curly hair frizz-free starts in the shower. Choose a gentle shampoo and ultra-nourishing conditioner to keep your curls as moisturised as possible. We recommend trying a no-foam co-wash like MoroccanOil Curl Cleansing Conditioner. Once you're done washing, be gentle. Make sure to blot it dry with a towel and don't be rough with it!
For Fine Hair
It can admittedly be a bit trickier to keep fine hair free of frizz, seeing as many smoothing hair products are on the heavy side and can leave hair looking limp and greasy. The trick is balancing smoothing-specific products with lighter options that can help keep frizz at bay without adding too much weight. Use MoroccanOil Treatment Light, which provides all the same benefits as the original treatment, but in a lighter formulation.
Next, seek out products that replenish moisture, as dry hair is most frizz-prone. Try the Moroccan Oil Hydrating Shampoo and Conditioner, which is formulated specifically for fine hair. You can also try the Smoothing Lotion, which has a lightweight formula that won't weigh hair down.