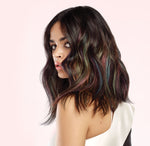 How To Care For Your Colour-Treated Hair
You've spent your money and time visiting a salon for that gorgeous hair colour of yours. Now you need to protect your investment. Here are Bohairmia's favourite tips to help you fight the fade and keep your hair colour true to it's hue.
Wait 48 Hours Post Colour-Treatment Before Shampooing
After colouring your hair, aim to wait at least two days before shampooing. This gives your hair enough time to close, ensuring that your new colour doesn't rinse out upon first wash.
Choose The Correct Shampoo & Conditioner
By using colour-protecting products, you're ensuring that the Shampoo and Conditioner is designed to keep your hair colour safe, extending it's life and vibrancy. You can find the best colour-protecting products here.
Nourish Your Hair With A Hair Mask
Pamper your colour-treated locks once a week with a deep-conditioning treatment to add moisture and shine back.
Protect Your Colour From Heat
Keep your hair and it's colour safe from damage that can be created using styling tools and exposure to the sun. We recommend Paul Mitchell's Color Protect® Locking Spray.
Save Your Blonde Tones With Purple Shampoo
Blonde hair has a tendency to go brassy. Opt for violet-tinted products to cool down brassiness and eliminate warmth. Find these products here.